What to do if you are an advertiser?
Sign up, create your first campaign and measure its performance with real-time analytics
Control panel
Header
Once you have signed up and are logged in as an advertiser, you will access the main panel. This panel consists of the following:
Panel Menu


It is located on the header, right under the web navigation menu. It includes the following options:

My Dashboard:

A summary of your campaigns with the most relevant data (name, status, network, total reach, messages published, messages for the gatekeeper, start and end dates, total allocated budget, percentage of the budget used, and possible operations to make).

Affiliates:

Information about the influencers that sign up with your URL. You will earn 5% of their generated income, which can be spent on new campaigns.

New Campaign:

Click on this option when you are ready to launch a new campaign.

Add balance:

Click on this menu item to add balance to your account specifying the amount and the method of payment:
PayPal
Bank transfer
Credit card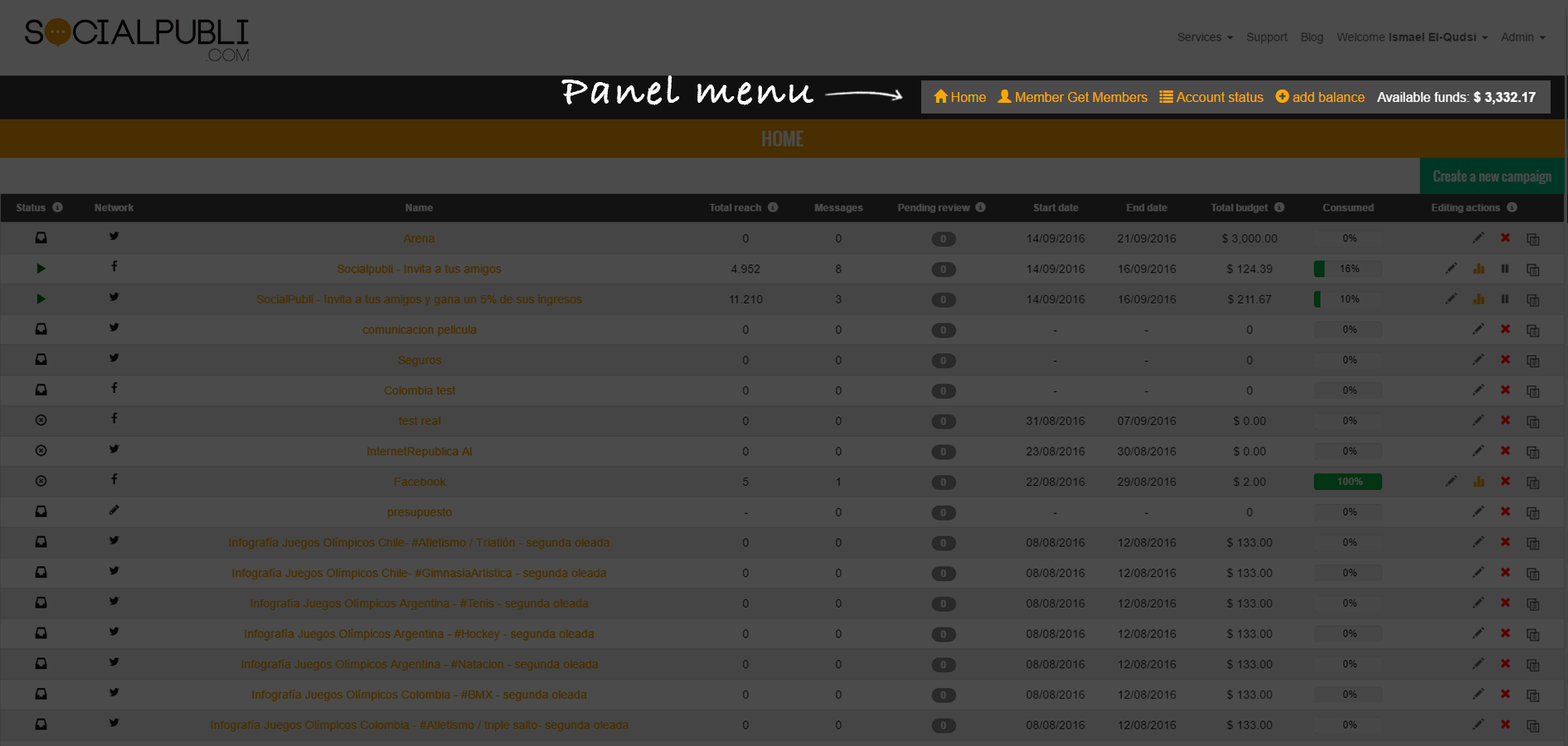 List of campaigns created
In this chart, under the advertiser's panel, you will see the campaigns that have been created. Here you will find a brief description of some of the items in the chart:
Status of the campaign


Draft:
A campaign that has been created but is pending confirmation. It is subject to modifications.
Pending confirmation:
The campaign has been sent to SocialPubli's team to be approved and launched. Once confirmed, it will not be possible to make any more changes.
Active:
The campaign is active. Either the advertiser or SocialPubli (depending on the customer's preference) may now act as gatekeepers for incoming messages.
Paused:
Campaign that has had to be paused and the participation of influencers temporarily halted.
Finished:
The campaign has reached its end date (which can be extended if necessary).
Rejected:
The campaign was not approved for launch by SocialPubli.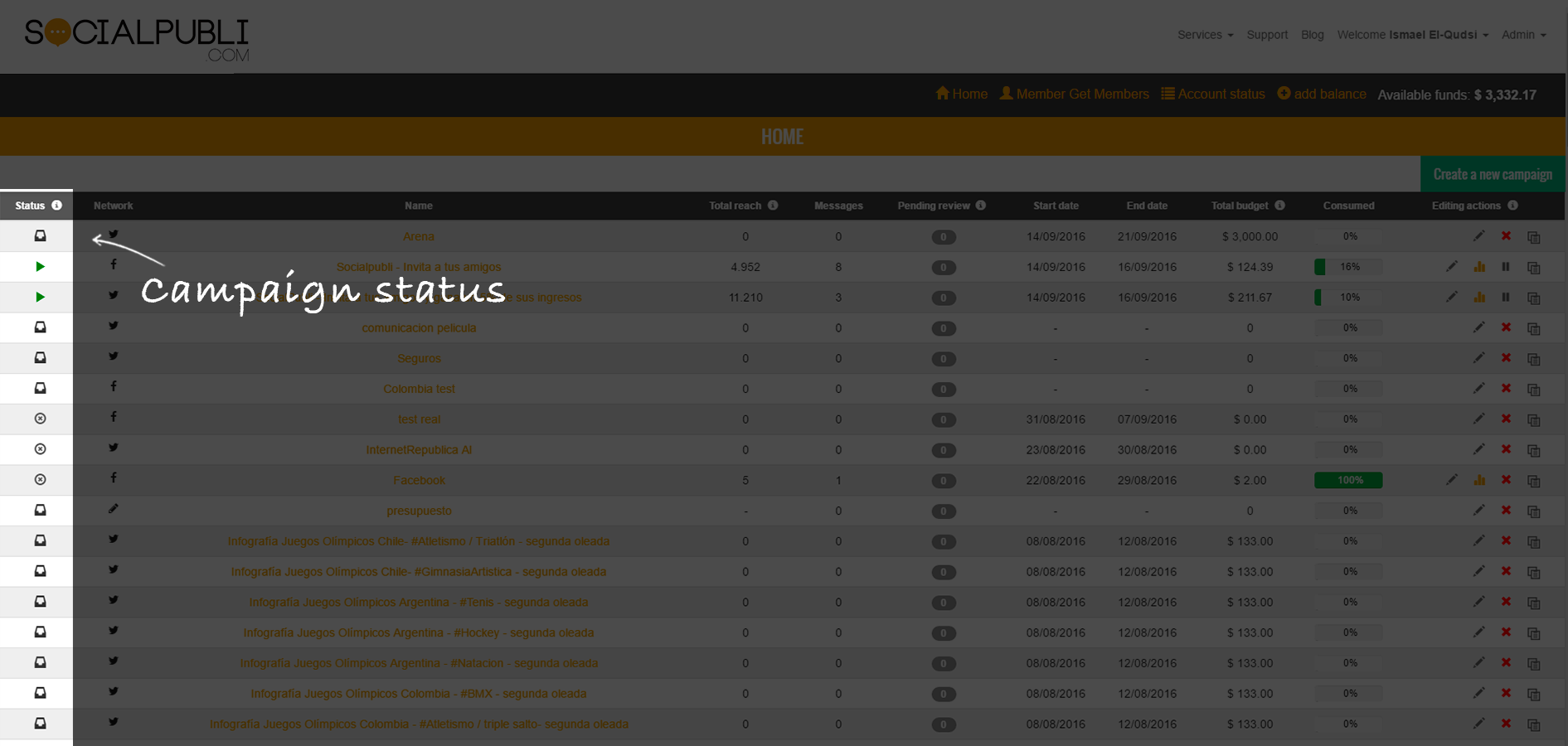 Network


Social network where the campaign takes place.
Campaign name


Name chosen by the advertiser for a specific campaign on the platform. It is recommended to use different names in order to easily identify and distinguish between campaigns that have the same general topic.



Create a campaign
Start creating campaigns


Click on "create a new campaign" to create a campaign easily and intuitively.
STEPS TO CREATE A CAMPAIGN
Customize your campaign in four steps.
Campaign information




Campaign name

Campaign description

Hashtag:

Specify a hashtag that influencers must include in their publications.

Link:

The URL that influencers must include in their publications.

Mention:

Indicate if influencers should tag a specific user in their messages.

Example:

Sample message to guide influencers and show them what you are looking for in each specific campaign.

Message gatekeeping:

Specify if you want messages to be moderated and pre-approved before they are published.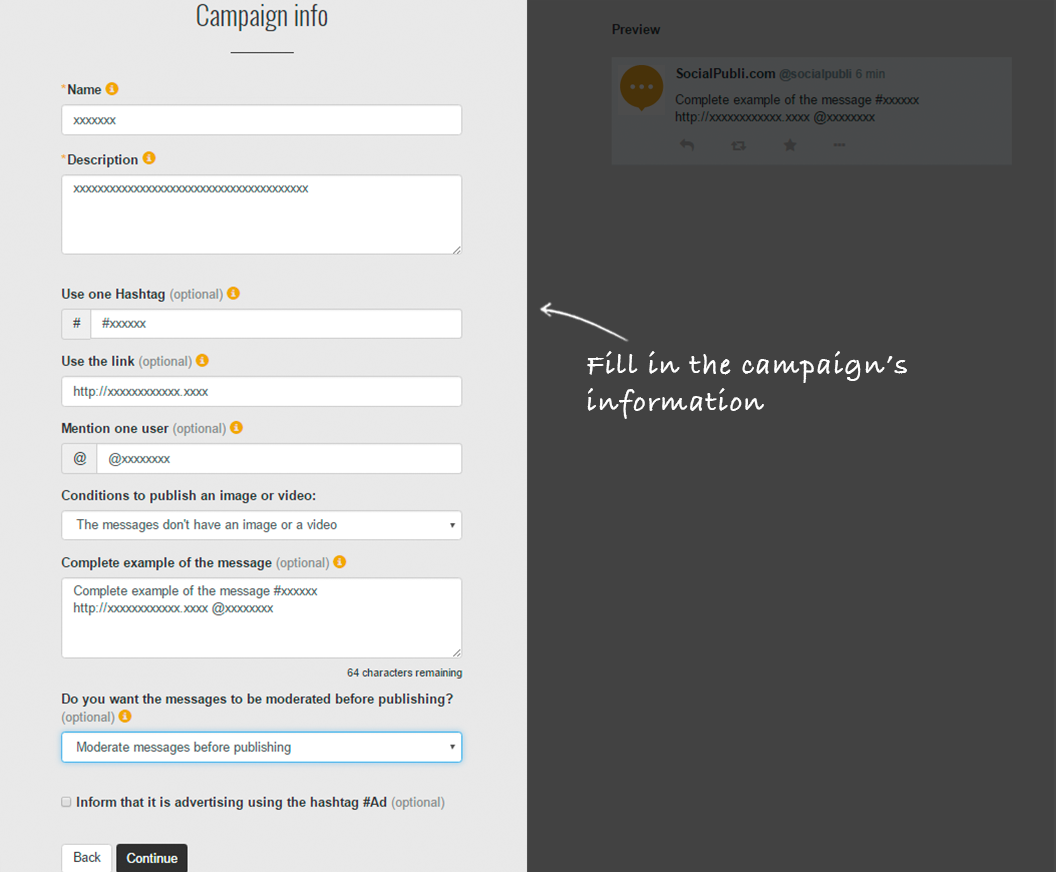 Sociodemographic data


Campaign preferences.

Target of the campaign:

Selection of the kind of influencers that can participate in your campaign based on the area(s) of interest they specify in their profiles.

Gender:

Specify if the campaign is exclusively targeted to men or women. You may also include characters, companies, media or other profiles.

Age:

Indicate the age range for the influencers who will participate in the campaign.

Location:

Specify the location where you want to carry out your campaign. You may segment by country, region or city.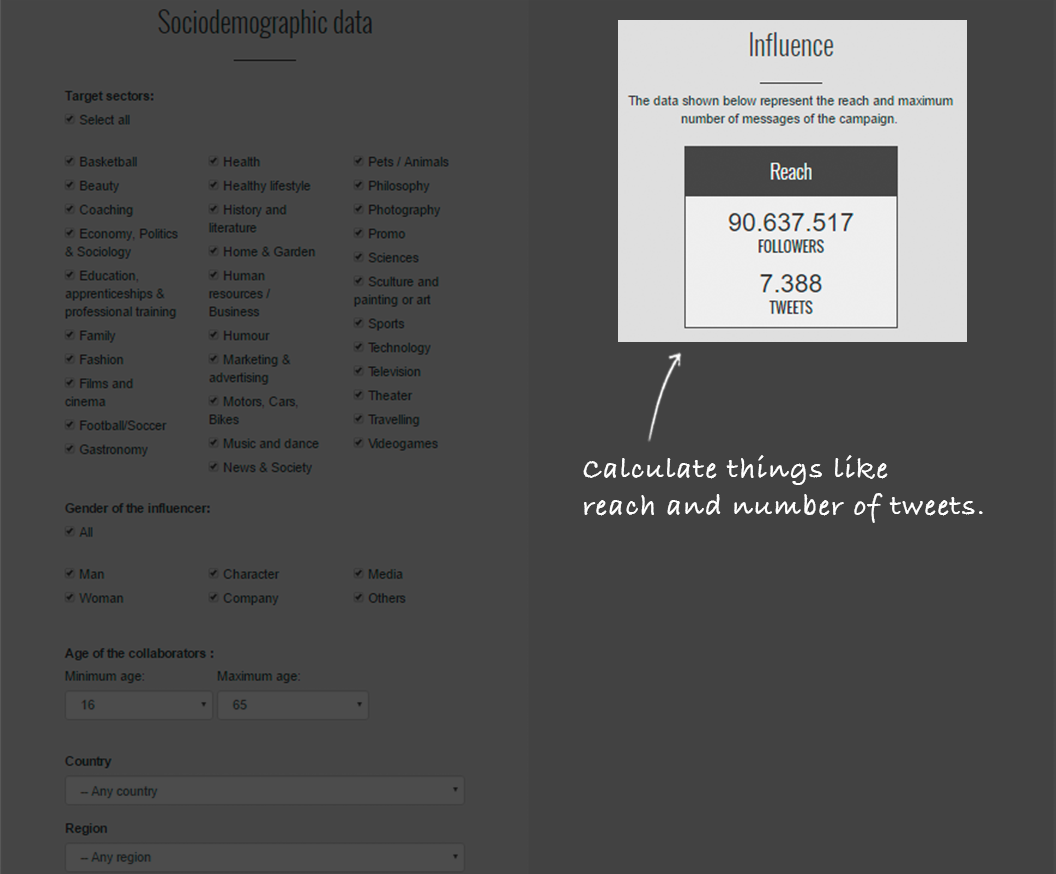 Influence


Use the preferences you selected for your new campaign to calculate data like the potential reach and number of tweets.

Reach:

Maximum reach of the publications, i.e. how many people would see your campaign.

Tweets:

Maximum number of tweets that could be published based on how many influencers can participate in your campaign.
Economic figures


Data about the price and start and end dates of the campaign.

Modify budget:

Adjust the investment you are willing to make to reach a certain number of influencers. The maximum amount is calculated by estimating the total number of influencers your campaign could potentially reach.

Start date and time:

Date and time when the campaign will be launched and influencers can start publishing.

End date and time:

Date and time when the campaign will no longer be available to influencers.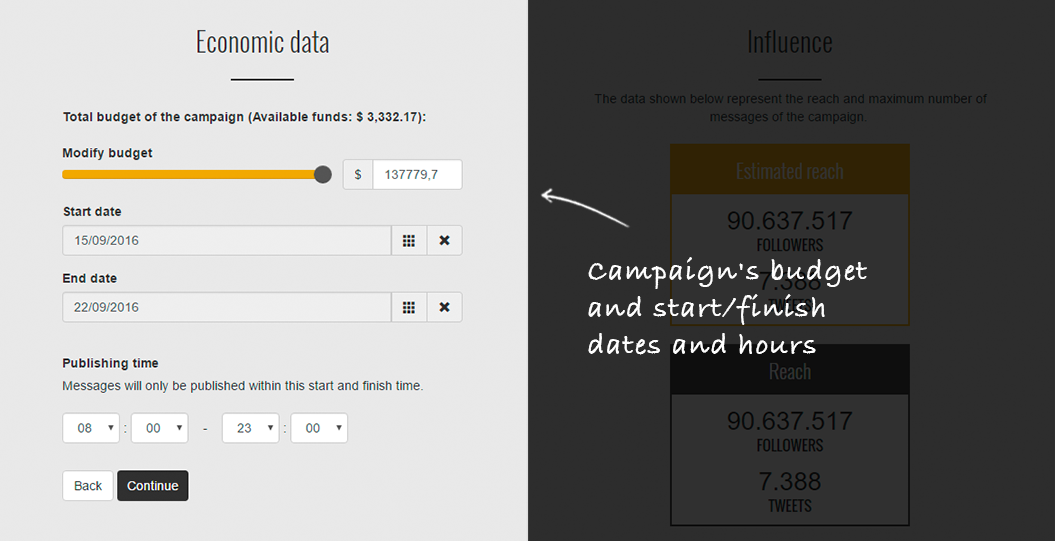 Confirmation


On this page, you will see a summary of the campaign you just created, including some of the main specifications: budget, description, classification of the influencers who will be invited, start and end date, etc.

Confirm:

If all of the information provided is correct, click on "Confirm" to submit the campaign to SocialPubli's team for approval. Please note that once you confirm a campaign, you can no longer edit it.

Save:

Leave your campaign as a draft on your advertiser's panel so that you can return to edit it later.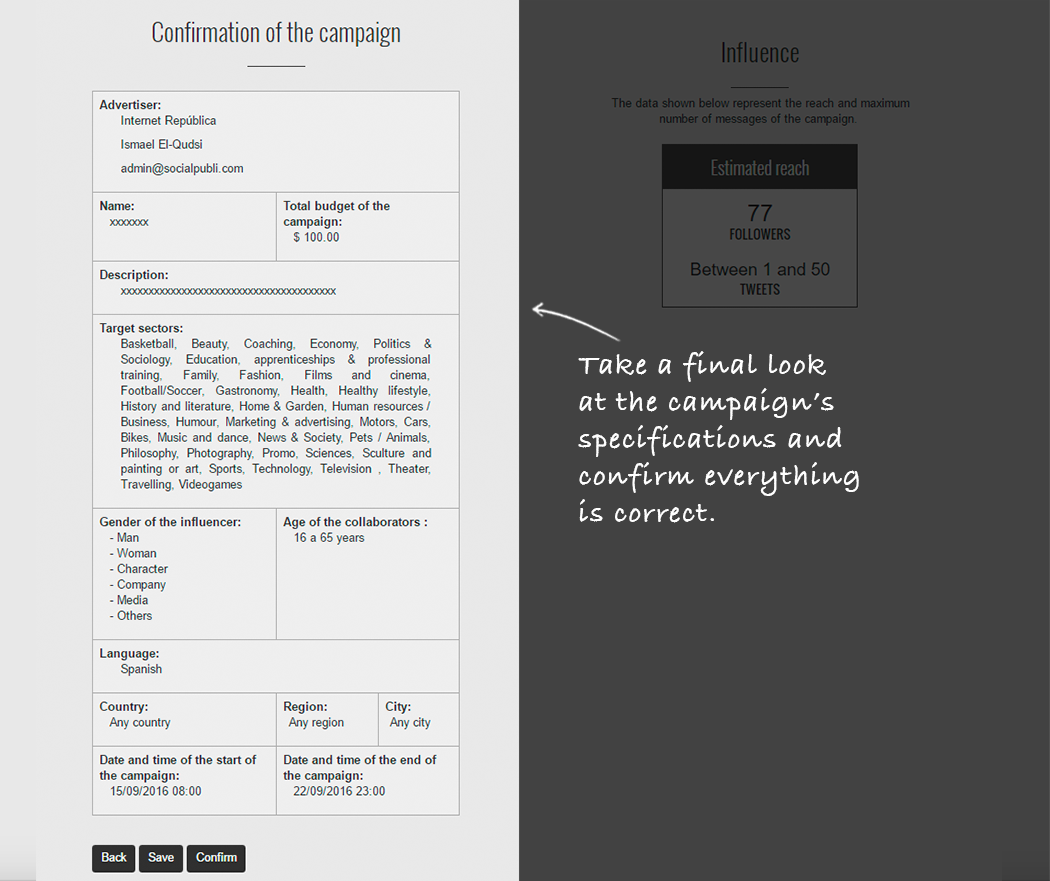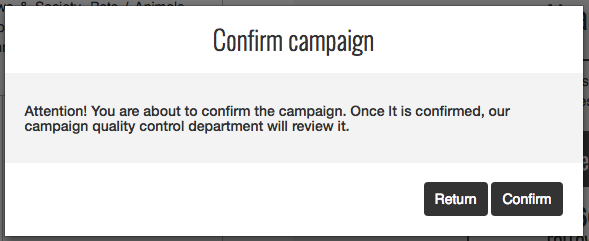 Monitoring Campaigns
Participation of influencers in a campaign
The advertiser's panel shows a grid with information about all of your campaigns.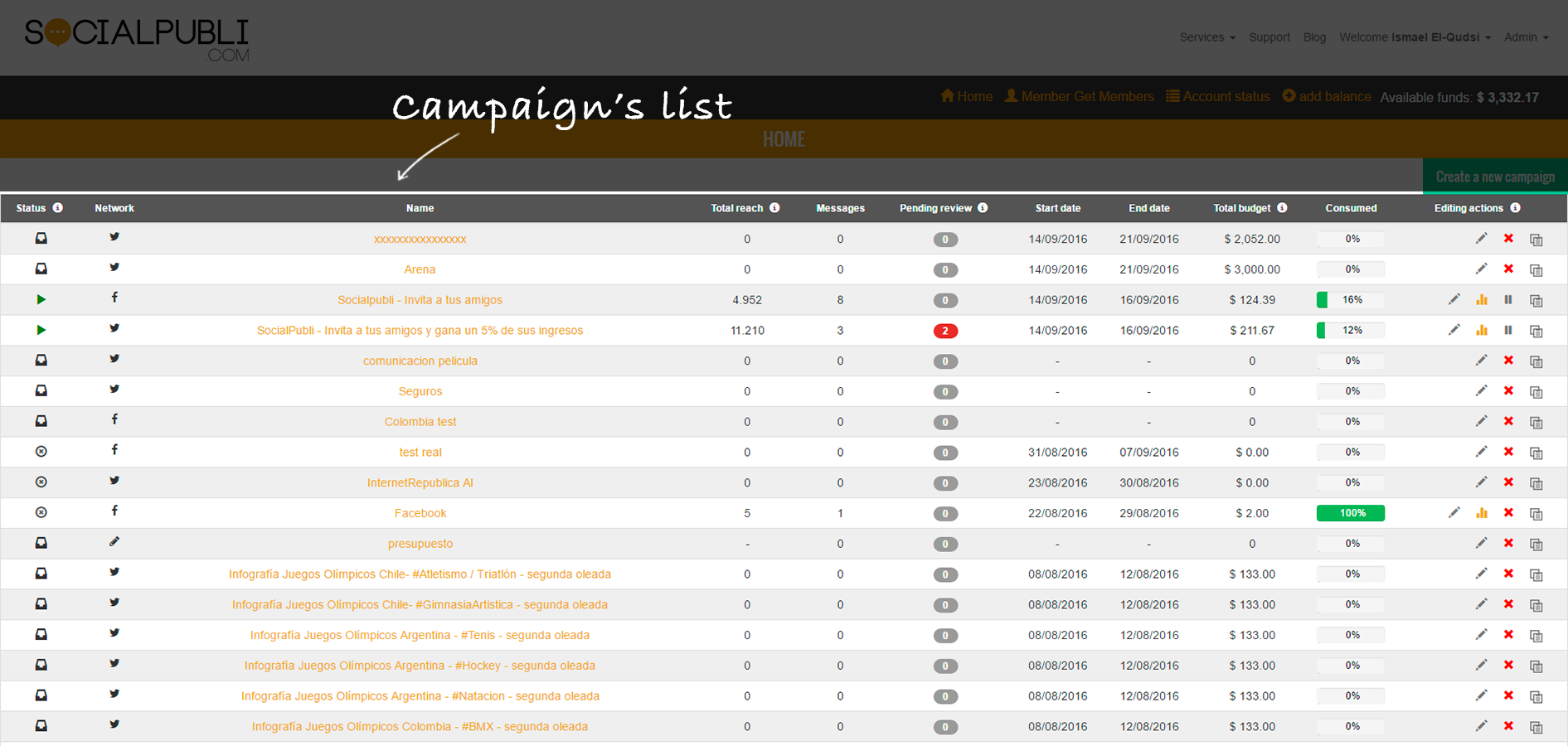 Campaign information


Track the development of the campaign by accessing important data, such as number of messages published, quotas of gender and age that have participated, paid and organic reach, total clicks for the publication, etc.

Actions


Advertisers can download, copy, print or export the statistics in CSV format.




Campaign statistics
View graphs and charts showing the activity and impressions of your campaign, the top frequently used words on the messages related to your campaign and the influencers with most followers who have participated on it.

Credit

Budget Control Panel
View your available funds and recharge your account if you wish. This page contains:
Current balance


Available funds to invest in campaigns.
Pending funds


Funds pending your approval to be added.

Add funds


You can add credit to your account via PayPal, a bank transfer or a credit card.

Pending funds


Decide whether you want to replenish the credit or if you want to cancel it.