Do you want to boost your brand's presence on Twitter with the help of influencers but don't know how? SocialPubli.com is an automated, self-serve platform that helps brands connect with the right influencers on social media.
By creating influencer campaigns on Twitter, brands can easily and automatically promote their content generating maximum brand awareness and conversions at scale.
Multiple studies have confirmed that word-of-mouth is much more powerful than advertising in generating sales and engagement from consumers. In fact, Nielsen's Global Trust in Advertising Survey revealed that more than 90% of consumers trust earned media, described as word-of-mouth and recommendations from trustworthy sources, more than any other type of advertising.
Influencer marketing is a new kind of digital word-of-mouth and it presents a great opportunity to help you reach your target audience in the most authentic way.
And the best part is that you no longer need to solely rely on celebrities who are willing to talk about your brand on Twitter. With SocialPubli.com, you actually get to select the profile of the people you want to promote your brand; these can be celebrities, experts or simply a fan of your brand.
Want to know more? Easy. To work with influencers using this platform you must first register as an advertiser. Then you can start creating as many campaigns as you like. All you have to do is fill in some basic information about your campaign, as shown below: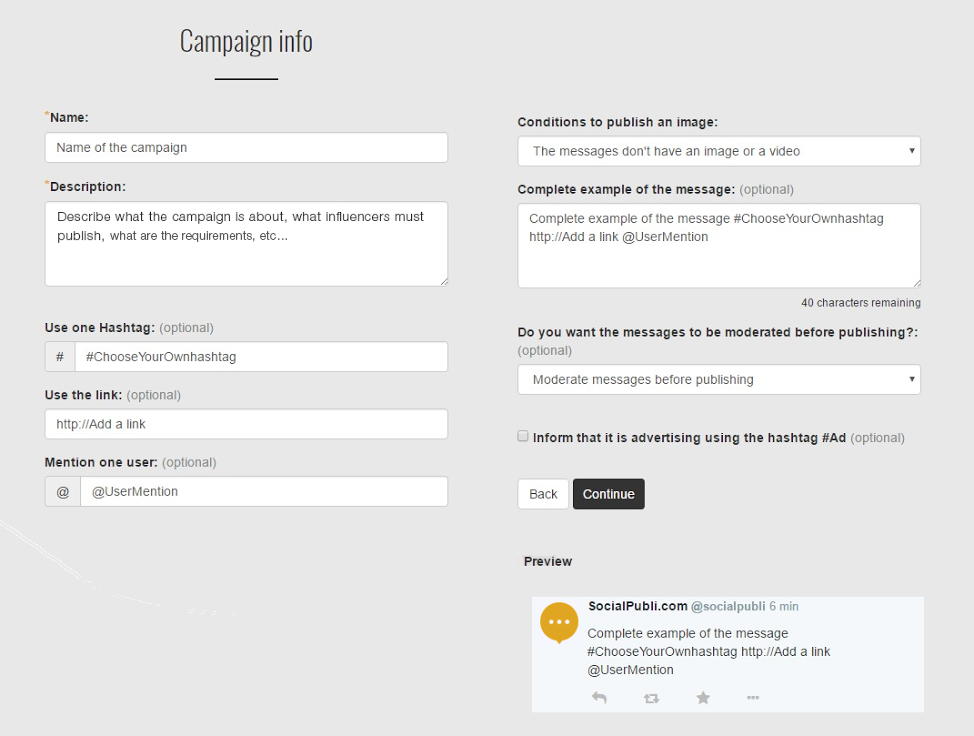 Do not hesitate to try our campaigns simulator for free to see the results you could achieve working with us and how much investment that would mean.
If you are already convinced, to create a campaign the first thing you have to do is add credit to the platform via a bank transfer, credit card or PayPal.
If you are an agency acting on behalf of clients, we can work with you through a purchase order model. Once you have your designated budget, go to your panel and select "create campaign", choose the option "Twitter" and the campaign creation panel will open.
Fill in all of the required information, including: title, description, picture or video, URL, mention and hashtag. Then, select the influencer profile and you are all ready to start advertising on Twitter.
You will see how influencers start sending you their proposed messages based on the criteria you determined for the campaign. And the best part is that you have total control over the process. Once you receive the messages you can choose to approve them or not, request changes or even add influencer profiles to your favorites.
Moreover, you can gauge the success of your campaign by taking a look at the customized analytics report that you will receive after the campaign has ended.
If you still think that this is an intricate process, don't panic! The SocialPubli.com team will be there every step of the way to help you create and launch campaigns with a national and international reach.
Our influencer marketplace makes it very easy for advertisers and marketers to find, target and connect with Twitter influencers to take brands to the next level and effectively attract new customers and clients.