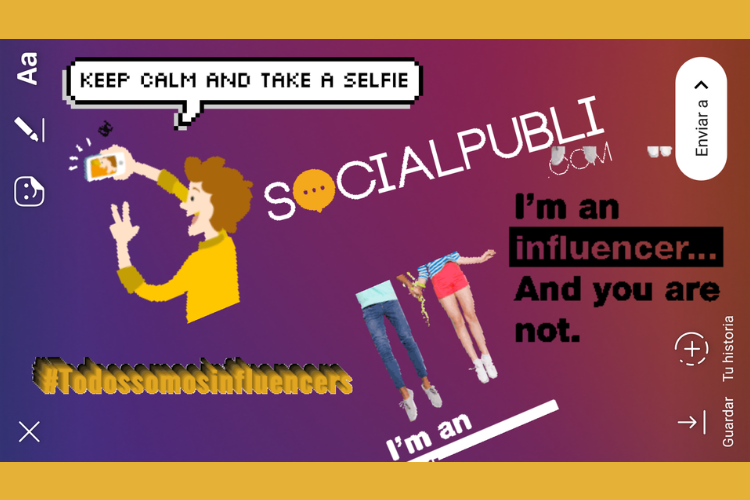 How to create your own stickers for Instagram Stories
To create your own stickers for Instagram Stories you will have to upload several
backgroundless GIFs to Giphy and contact them, a process that we will explain in detail.
Once you get a verified account and have uploaded content, you will be able to use your
own GIFs in Instagram Stories and add a unique touch to your account.
What is a GIF or Sticker?
Instagram stickers are all the options that appear in Instagram Stories when you are going to
publish one. That is to say, they are the stickers of mention, survey, questions, GIF and the
rest of emojis. In this case, let's go deeper into the GIF stickers, so you can create and add
yours.
Since we are defining things, let's explain where the acronym GIF comes from: Graphics
Interchange Format. And before having them integrated into our keyboards, if you wanted to
send one to someone to express your feelings (because a GIF is worth a thousand words), it
had to be like that: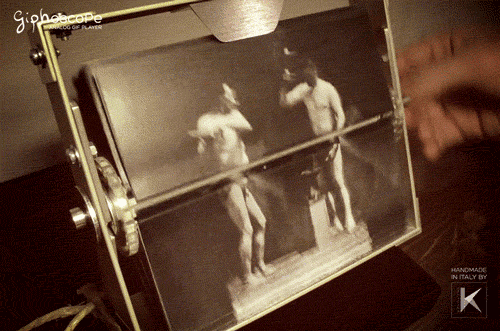 How to make a GIF
If you don't know graphic design or your company can't turn to a designer, on the same
website they have a GIF creator that will be very helpful.
How to make an image GIF
The process is very simple. Simply upload the images you want to the GIF creator. For
example, it could be a burst of photos of you reacting to something. Or a photo from your
window every day. Once you've uploaded them, you can rearrange them and adjust how
long they're on screen.

How to make a GIF of a video
You can GIF both videos you upload and videos already hosted on YouTube, Vimeo or even
Giphy. As soon as you upload it, the website will take you to a screen where you can choose
how long you want it to last. Then you can add animated messages, more GIF (gifception),
filters… And now you can upload it directly to Giphy!
How to download a Giphy GIF
To download a Giphy GIF, all you have to do is right-click on the GIF and click "Save Image
As…".

How to upload a GIF to Instagram
To upload a GIF to Instagram Stories you first have to do these steps:
1. Create a GIF with a transparent background.
2. Upload it to Giphy.
3. Verify your Giphy account.
4. You can now find your GIFs in the story finder!
How to verify your Giphy account
First of all, you need to create an account at Giphy. There are two possibilities, either as an
individual artist or as a brand/company. Once you have it, it's time to fill in your information,
with your social networks, an image, a text talking about you. You know.
(If they don't accept your request you can continue creating your account as a normal user,
and then ask to be verified)
It's time to start uploading your original creations. That is, if you want to be verified, you can
not copy and paste GIF that are not yours.
If you want your GIFs to appear in the Instagram Stories search engine, make sure they
have a transparent background, as if it were a PNG image. Only then will you be able to use
them in Stories.
Already have 10 uploads? It's time to contact Giphy.
Send your email with your account name (and a text asking if they can verify it) to
support@giphy.com or partnerships@giphy.com. In our experience, it may take a while and
you may have to insist a little. Patience… And good luck!
Statistics of your GIF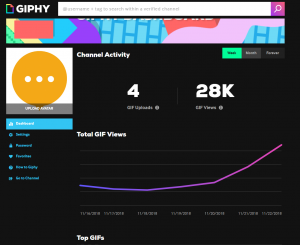 Once you have your Giphy account verified, you will be able to view statistics such as how
many times each GIF has been viewed.
Remember to add a description to your account telling what you do, and also tag your
creations to make them easy to find. For example, if your GIF belongs to someone who fails
a basket, put things like 'sad', 'basketball', 'miss'…
You don't need to do anything else to upload your GIF to Instagram. All you have to do is
open it, go to the GIF finder and type in the name of your account – it's your GIF!
We have prepared a mini-video for you so that there is no doubt about how to use them and
show that you are influencing… and the rest are not.
GIF for Facebook, Twitter, WhatsApp…
By the way! Now that you have a verified account, you can not only put your GIFs in
Instagram Stories. These are other services where you can find the GIFs you upload to your
channel:
WhatsApp
Facebook Messenger
Twitter
Tinder
Slack
Twitch
Outlook
And much more!
The difference is that here you can only use GIFs that do not have a transparent
background. These remain exclusive to Instagram  All that's left is to make the most of
them!